An answer for every need.
Whether you're a professional, a fan, or just an amateur photographer, it doesn't matter. We offer you the best for your photos and videos.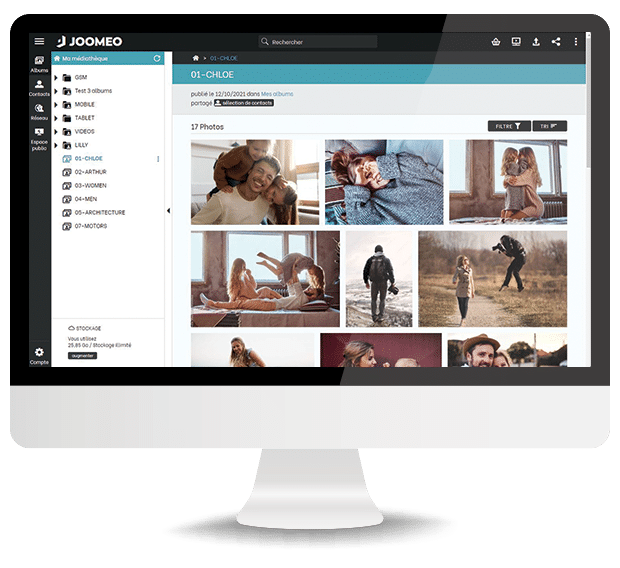 Save and organize your images,
in a private and secure space.
Automatic backup of photos and videos from your connected devices.
Unlimited number of files, albums, and folders.
File storage in original format.
Max size for photos: 200 MB.
Accepted formats: jpg, png, heif, heic, gif, tiff, raw, pdf, psd, eps, ai.
Max size for videos: 2 GB.
Max duration: unlimited.
Play videos online.
Accepted formats: avi, mov, mpg, mp4, hevc.
Import of IPTC data.
EXIF data management.
Keyword management.
Share your photos and videos,
and manage your contacts' rights precisely.
They are identified by a unique and customizable login and password.
Unlimited number of contacts.
Customized rights for each contact: downloading, importing, ordering prints, leaving comments.
Advanced rights for the contacts of your choice: creating albums, deleting files and/or added albums, etc.
Real-time modification of rights and items shared.
Tree structure for contacts.
Organization of contacts in groups.
Private network of Joomeo users.
Easy publication to social networks.
Integrated messaging (invitations, update information).
Up to 1000 emails per day (invitations, update information).
Manage how your images are distributed,
right from your Joomeo space.
Content can be shared without logins or passwords.
Several sharing modes: slideshows, public albums, and the public space.
Real-time modification of accessible content;
Easy sharing on social networks.
Easily integrated into a website or blog (images and slideshows).
Audio for slide shows.
because your Joomeo space is at the core of your image management.
Mobile apps for your iOS and Android devices.
Import plugin for Lightroom.
Joomeo Transfer & Joomeo Desktop, the standalone applications to easily manage your imports and downloads without using your computer's browser.
Protect photos and videos by adding watermarks.
Unlimited access to the support center for personalized answers and advice.
No advertising, even in the shared items.
Joomeo is the perfect solution for image professionals -
we offer services suited perfectly for their specific needs.
Personalize your space and send invitation emails with your logo (a paid option).
Free activation of a sales area for your photos, supported by our lab's services and products.
Your needs, your subscription
We can't say everything in just a few words, so we've gathered some of the questions that are frequently asked here. If you don't see yours, contact us!