Saving the essential means also caring for our environment
Joomeo is taking action to allow you to store and organize your images in an eco-responsible cloud, thereby reducing your carbon footprint to every extent possible.
We have chosen French data centers to optimize energy consumption for server operation and cooling.

For servers, proximity is better as well ! We host your data in France; not elsewhere. It's safer and less polluting.
Joomeo is part of a global initiative. Our employees are the heart and soul of our solution. Their well-being is at the core of what we do.

Joomeo, the short-circuit cloud !
Joomeo is a French company founded in Lyon in 2007. Today, the entire team is based in Saint Égrève, just outside of Grenoble. Since the beginning, all of our serveurs have been located in France. This is a
commitment
on our part as well as a conviction. To better control the security and privacy of our users' data, we prefer to remain in full control of our infrastructure.
Optimizing in order to better preserve
As you know, every day more and more photos and videos are taken. The consequence is clear. The volume of stored files is continuously increasing. Obviously, we replace our equipment on a regular basis. Doing so allows us to meet your needs while ensuring
the highest level of performance.
No waste!
We give a second life to replaced elements when their condition allows for it. We assign them to secondary tasks, not directly related to the management of our users' data. This eco-responsible approach, which is similar to recycling, dramatically decreases our environmental impact. We extend the lifecycle of our equipment and reduce the quantity of our waste.
Optimizing the sending of our emails
We have decided to streamline our mailings, especially promotional ones. By completely rethinking the criteria for sending out communications, we've reduced the number of emails sent by 51% in 2022. In parallel, significant work has been done in terms of optimizing the weight of our messages. This has resulted in an average reduction of nearly 40% of the space occupied by our emails in your mailbox. In making these choices, we've decreased our energy costs and greenhouse gas emissions (-54% in 2022 and -92% in 2023 compared to 2021), and we're favoring a more direct and richer relationship with our users. For this, we rely on
our blog
, our support center and our social media pages.
Joomeo's main objective is to offer you a dematerialized service, but we also offer a large catalog of printed products. The paper used in our photo books and the wood used in the frames for our canvas photos are sourced entirely from the FSC® supply chain. These materials, and all variations of our photo books, are certified by the
Forest Stewardship Council®
. This certification is proof of compliance with the rules of virtuous and eco-responsible forest management on the part of the forests from which the wood used in our production is taken…from the planting of the trees to the manufacturing of our products. Proper forest management doesn't only imply maintenance or streamlined wood harvesting! More broadly, it's about "meeting the social, economic, ecological, cultural and spiritual needs of current and future generations". We are proud to be involved in this initiative.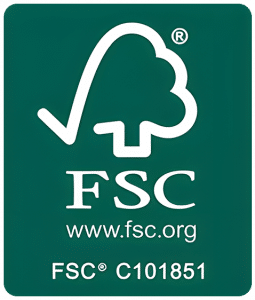 Our citizen and ecological commitments
Our actions are not limited to optimizing our tools for delivering the best possible service. The personal involvement of our employees is essential. This is why we encourage them to take action for the environment in their daily lives. As such, for the past several years, we've been promoting soft mobility (bicycles, public transportation, etc.) and carpooling. For example, an annual bonus is granted to employees who get to work on bicycles, scooters or on foot, rather than by car. Those who choose to carpool enjoy reserved and easily accessible parking spaces.
Employee well-being
The well-being and health of our employees is a top priority for us. This is why sports are strongly encouraged. Those who wish to do so can participate in workshops offered by athletic coaches on a weekly basis in our offices. These very concrete actions are part of our commitment to a broader and more ambitious
CSR (Corporate Social Responsibility)
initiative which will allow us, among other things, to become carbon-neutral between 2025 and 2030.
But without you, all of this is meaningless!
We're doing what's necessary internally to minimize our impact on the environment. Our teams are enthusiastically committed to this endeavor in order to offer you an increasingly eco-responsible service and features that are in line with current ecological issues. But without your commitment, our actions will have a limited impact. You can also play a role in making Joomeo even more virtuous. Here are some things you can do to join us in our endeavor:
Every action counts in our battle against global warming. It's a battle we fight on a daily basis. We're counting on you to support us along the way by expanding our actions through your own eco-responsible and virtuous behavior!
No phrase better describes our reason for being!

We've been protecting your most treasured memories for a number of years now. Today, we're doing so by preserving nature and everything it has to offer as best we can.
Do you know what a carbon footprint is and how it's calculated? We'll explain it to you here: