A solution for every need
It doesn't matter whether you're a professional photographer, an enthusiast or just a hobbyist. We offer you the best for your photos and videos.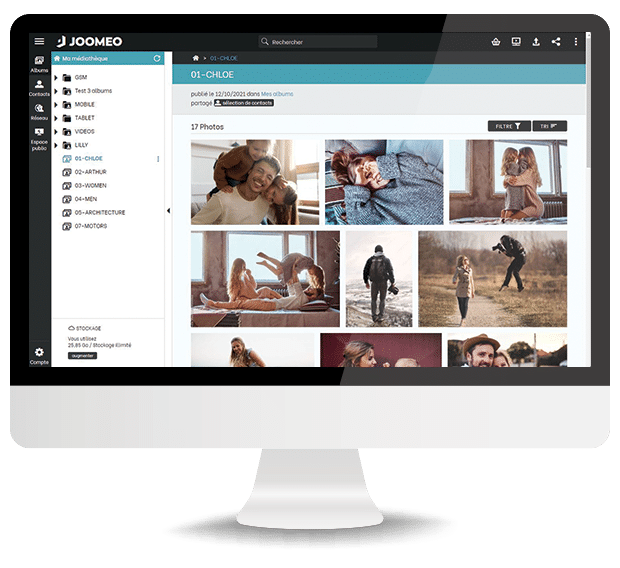 Easily sell your photos and videos
by activating your shop with just one click.
Ultra-simple activation of your sales space.
Total control of your photo product catalogue.
Sale of digital files.
Simple and precise setting of profit margins.
Thorough sales follow up.
Joomeo takes care of the entire sales process, from order taking to product delivery.
Secure payments for your customers.
No computer skills required.
Save and organise your images
in a private and secure space.
Unlimited number of files, albums and folders.
Storage of files in their original format.
Maximum size for a photo: 200 MB.
Accepted formats: jpg, png, heif, heic, gif, tiff, raw, pdf, psd, eps, ai.
Maximum size for a video: 2 GB.
Maximum length: unlimited.
Online video playback.
Accepted formats: avi, mov, mpg, mp4, hevc.
IPTC data importation.
EXIF data management.
Password management.
Share your photos and videos
and closely manage the rights for your contacts.
Identification via a unique and customisable login and password.
Unlimited number of contacts.
Personalised rights for each contact: download, import, order prints, comments.
Advanced rights for the contacts of your choice: creation of albums, deletion of added files and/or albums, etc.
Real-time changes to rights and shares.
Tree structure for contacts.
Organisation of contacts by group.
Private network of Joomeo users.
Easy posting to social networks.
Integrated messaging (invitation, updated information).
Up to 1,000 emails per day (invitation, updated information).
Manage the distribution of your images
directly from your Joomeo space.
Distribution of content without identification.
Several distribution modes: slide shows, public albums, public space.
Real-time changes to accessible content;
Easy distribution via social networks.
Easy integration into a website or blog (images and slide shows).
Sound tracks for slide shows.
You can request even more
since your Joomeo space is at the centre of your image management.
Mobile applications for your iOS and Android devices.
Import plugin for Lightroom.
JOOMEO DESKTOP, the stand-alone application for easily managing your imports and downloads without going through your computer's browser.
Protection of photos and videos through the addition of watermarks.
Unlimited access to the support centre for answers and personalised advice.
No advertising, even in sharing.
We can't say everything in just a few words, so we've put together some of our most frequently asked questions. If you don't find what you're looking for, contact us!